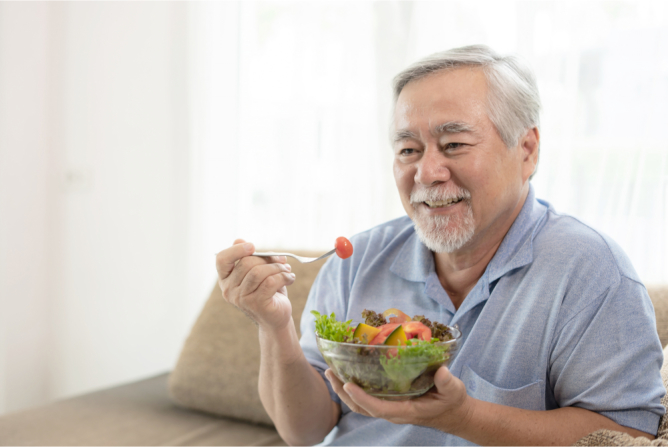 Take charge of your brain health today by embracing a well-balanced diet and the support of dedicated caregivers. Other than receiving companionship services, incorporating brain-healthy foods into your daily diet is a proactive step towards preventing dementia and maintaining cognitive vitality.
With the help of a homemaking expert, you can prepare meals with some of the top foods that can help prevent dementia:
Blueberries

Considered a superfood for the brain, blueberries are packed with antioxidants that protect the brain from oxidative stress and inflammation. These small, vibrant berries also contribute to improved memory and cognitive function.

Fatty Fish

Including fatty fish such as salmon, trout, and sardines in your diet provides an excellent source of omega-3 fatty acids. Omega-3s have been shown to reduce the risk of dementia. They also help improve mood and memory.

Leafy Green Vegetables

Leafy greens like spinach, kale, and collard greens are brimming with nutrients, including vitamin K, folate, and beta-carotene. These compounds help slow cognitive decline and promote healthy brain aging. Regular consumption of leafy greens has been linked to improved memory and attention span.

Turmeric

This golden spice is known for its anti-inflammatory properties, thanks to its active compound called curcumin—the blood-brain barrier. Allowing your provider of home care in Orange County to include turmeric in your diet can help reduce inflammation and oxidative damage in the brain.
Blueberries, fatty fish, leafy green vegetables, and turmeric are just a few examples of the nutritious options available. Remember, if you or your loved ones require home care in Lake Forest, California, we at Lake Forest Quality Caregivers, LLC, can help.
As a trusted caregiving agency in Orange County, we offer companionship services, homemaking, personal care, and respite care to enhance the quality of life for seniors.
Disclaimer
Blogs, content, and other media uploaded online are for informational purposes only. Contents on this website should not be considered medical advice. Readers are strongly encouraged to visit their physician for health-related issues.